Professional Affiliations, Honors, and Highlights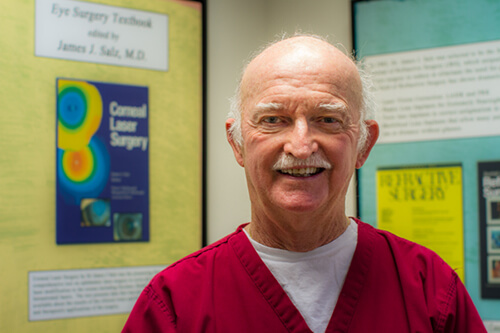 Dr. Salz has been an invited lecturer at over 200 local, national and international meetings and has been actively involved in teaching refractive and cataract surgery techniques to other eye surgeons both in the US and abroad since 1981. He was the 1991 President of the International Society of Refractive Keratoplasty and has been a volunteer surgeon and lecturer on Project Orbis (the "flying eye hospital") in Yugoslavia, India and Cuba.
Among the first in California to have experience with the new improved "down-up" LASIK technique with the Hansatome.
Conservative philosophy emphasizing safety as the most important issue in performing elective refractive surgery on only one eye at a time.
Extensive listing of publications in national and international eye journals on refractive.
Dr. Salz received his medical degree from Duke University and completed his internship and ophthalmology residency at the University of Southern California (USC) L.A. County Medical Center where he continues to volunteer as Clinical Professor in surgery.
An internationally recognized specialist in refractive surgery, Dr. Salz has been in private practice in Los Angeles for over 30 years and is one of the few ophthalmic surgeons to have performed all types of refractive surgery.
Dr. Salz was the Founding Editor of the Journal of Refractive Surgery. He was the co-editor of the book Refractive Corneal Surgery published in 1986 and is the Editor-in-Chief of the 1994 published textbook Corneal Laser Surgery.
Presented in part at the American Academy of Ophthalmology.
Annual meeting, Dallas, Texas, October 2000.
James J. Salz MD1, 1, Christy A. Stevens OD, and LADARVision LASIK Hyperopia Study Group2, 2
1 American Eye Institute, Los Angeles, California, USA
2 Alcon Surgical, Orlando, Florida, USA
Principle Investigator for following FDA Clinical Trials:
VISX, INC.: Excimer Laser PRK for Low to Moderate Myopia – 1990-1995
Autonomous Technologies: Tracker Assisted PRK for Low to Moderate Myopia 1996
VISX, INC: Excimer Laser PRK for Hyperopia – 1997
VISX, INC: Excimer Laser PRK for Hyperopia plus Astigmatism – 1998
Autonomous Technologies: Tracker Assisted LASIK for Myopia – 1999
Autonomous Technologies: Tracker Assisted LASIK for Hyperopia – 1999
VISX, INC: LASIK With the VISX Star S2 for Hyperopia/Astigmatism – 1999
STAAR Surgical: Implantable Contact Lenses for Hyperopia – 1999-2004
Alcon: LadarVision Wavefront Custom Cornea LASIK for Myopia + Astigmatism – 2003
Alcon: LadarVision Wavefront Custom Cornea LASIK for Hyperopia + Astigmatism – 2004