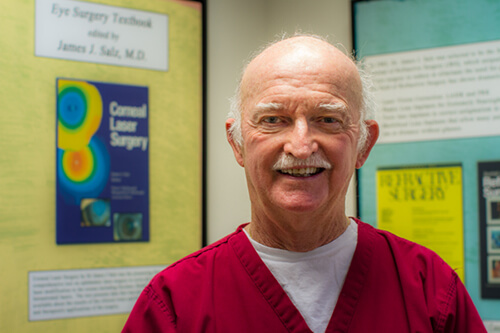 An internationally recognized specialist in refractive surgery, Dr. Salz has been in private practice in Los Angeles for over 30 years and is one of the few ophthalmic surgeons to have performed all types of refractive surgery.
Although there are hundreds of qualified ophthalmologists performing Vision Correction and other refractive surgery procedures, very few have Dr. Salz' unique qualifications and extensive experience.
As a leading spokesperson for the American Academy of Ophthalmology, Dr. Salz has appeared on the Today Show, CNN, PBS and TV news programs and has been quoted extensively in major ophthalmology publications in the USA and abroad. Because of his conservative philosophy conserning refractive surgery, his opinion is routinely sought by other surgeons for patients in their own practices. He has edited numerous books and has published over 75 scientific articles on the subjects of refractive and cataract surgery. He has served a volunteer surgeon and lecturer on Project Orbis, the flying eye hospital, in Yugoslavia, India and Cuba.
Dr. Salz received his medical degree from Duke University and completed his internship and ophthalmology residency at the University of Southern California (USC) L.A. County Medical Center where he continues to volunteer as Clinical Professor in surgery. He was appointed as Principal Investigator for 4 VISX Excimer Laser FDA studies and 3 Autonomous Technology LADARVision FDA studies at Cedars-Sinai Medical Center in Los Angeles. As a highly respected international lecturer and educator, he has been an invited lecturer and instructor to over 200 eye meetings nationally and internationally.
Professional Affiliations, Honors, and Highlights
Among the first in California to have experience with the new improved "down-up" LASIK technique with the Hansatome.
Conservative philosophy emphasizing safety as the most important issue in performing elective refractive surgery on only one eye at a time.
Extensive listing of publications in national and international eye journals on refractive surgery techniques. Editor of two textbooks on refractive surgery techniques and author of dozens of book chapters on refractive surgery.
Clinical Professor of Ophthalmology, University of Southern California.
Performed first refractive surgery procedure, radial keratotomy, in 1980.
One of only 9 United States surgeons certified to participate in the National Eye Institute's Prospective Evaluation of Radial Keratotomy (PERK) study .
First experience with a microkeratome as used in the LASIK procedure 1980.
Among the first in the world to perform excimer VC in 1990.
Certified VISX instructor, has helped to train hundreds of other VC surgeons.
Principal investigator at Cedars Sinai Medical Center for the VISX FDA low-to-moderate myopia study and for the VISX STAR hyperopia FDA study; Principal investigator for Visx at Cedars Sinai Medical Center for FDA study of LASIK for farsightedness with astigmatism and for Alcon at Cedars Sinai Medical Center for FDA study of wavefront based Custom Cornea LASIK for both farsightedness and nearsightedness with astigmatism; Principal investigator at the American Eye Institute's Autonomous Technology FDA study for the correction of low-to-moderate myopia and astigmatism study; Current national medical monitor for Alcon excimer laser studies and Principal investigator at American Eye nstitute for Alcon FDA study of Phakic, flexible anterior chamber lens implant for correction of high myopia.
Investigator for Opti-K, thulium laser surgery for low hyperopia 2015-2016 (see projects).
Certified Instructor for Vision Correction
VISX Excimer Laser
Autonomous LADARVision Laser
Past President, Executive Board Member
International Society of Refractive Surgery
Los Angeles Society of Ophthalmology
Research Study Club of Los Angeles
Member of Following Associations
American Society of Cataract & Refractive Surgery
California Association of Ophthalmology
American Academy of Ophthalmology
Chairman, Refractive Surgery Interest Group
Media Speaker's Bureau, American Academy of Ophthalmology
Recipient of Following Awards
American Academy of Ophthalmology – Honor Award
American Academy of Ophthalmology – Senior Honor Award
American Academy of Ophthalmology – Lifetime Achievement Award, 2008
American Academy of Ophthalmology – Secretariat Award, 2007
University of Southern California – Distinguished Alumnus Award, 1996
Barraquer Award – Refractive Surgery Contributions, 1994
Founding Editor
Journal of Refractive Surgery
Editorial Review Board
Journal of Refractive Surgery
Review of Ophthalmology
Co-Editor
Corneal Laser Surgery (Textbook)
Listed in America's Top Doctors, – 2001,to 2015
Very few surgeons in the world have had experience with all of the following refractive surgery procedures: radial and astigmatic keratotomy, keratophakia, keratomileusis, epikeratophakia, LASIK with 3 different microkeratomes, Chiron ACS, Chiron Hansatome, and Moria, Photorefractive keratectomy (PRK) with 5 different excimer laser systems, Alegratto,VISX 20/20, VISX STAR, Summit, and Autonomous Technology LADAR Vision tracking flying spot laser, Sunrise holmium laser for hyperopia,Opti-K thulium laser system for low hyperopia (Under FDA Study), Clear lens extraction for hyperopia, phakic intraocular lens implantation with the STAAR colamer lens for both myopia and hyperopia,and the Alcon Cachet anterior chamber lens (as part of the FDA study) correction of hyperopia with the VISX STAR.
Make sure you let us know you visited our web site. As a way of thanking you for coming, we would like to offer you 10% off of most procedures.
We look forward to hearing from you soon.